Enchantment System
Takashi , Enchanter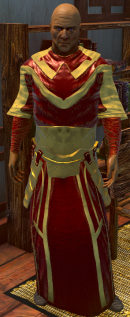 Argo , Enchanter
The enchantment system is a game mechanic that allows bonuses to be attached to armor, weapons, and accessories.

These bonuses enhance the effects of damage, resistance, as well as the improvement of attributes, increased experience gains, gold and item drops.
Each item of the kit allows you to add different bonuses, so we invite you to see our List of Bonuses section.
Enchanters
Argo and Takashi are two magicians, master and apprentice respectively, specialized in the arts of enchantment within the world of inferna.
Argo having a greater amount of knowledge, has the ability to add a maximum of 4 bonuses to equipment of any level.
Takashi not being that experienced, only has the ability to add 2 bonuses and a maximum of level 25 equipment.
Although both are very good at adding a new enchantment, they are not exempt from failing.
Location
Table 1. Location of the Enchanter
Both magicians are in their libraries located in the main cities, usually near to the alchemists.
You can easily locate them on the minimap with a book icon(Table 1) or using our interactive map.


History of enchantments

Yumi , Alchemist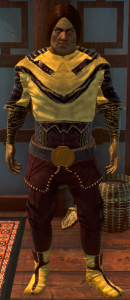 Likinu , Alchemist
In an arduous work of study, the magicians found in a strange material from the rifts, with the ability to strengthen the attributes of the adventurers equipment that provided them with this strange materials.
These materials are known as magical essences ,an ash found on the ground after closing the portals of the inferna.
When observing the different samples brought by the adventurers, they realized that the essences had different purities.
After many tests they noticed that they could only enchant low-level equipment and deduced that they required some source of energy, capable of infiltrating the highest purity essences.

---
The Alchemists
Experience Crystalizer

During those years, Yumi and Likinu,two experts in the arts of alchemy, would reveal a great discovery that would resonate throughout the kingdoms of the world.

This discovery was neither more nor less than the Experience Crystalizer.

| | |
| --- | --- |
| Experience Crystal Shard | Experience Crystal |
| | |
This powerful crystal absorbed the energy of anyone who dared to hold it in their hands.
When absorbing enough energy the crystalizer emitted an incandescent glow and from this, a fragment in the form of a precious stone came out.
The magicians, upon learning of this discovery, did not hesitate for a second to go out to find him. By getting it, after months of analysis and hundreds of attempts, they were finally able to enchant equipment of a higher level.
However, in some cases it was not necessary to use a complete experience crystal, so they classified the gears according to this criterion:
---
Classificatory table according to level
| Classification | Levels | Materials required to enchant |
| --- | --- | --- |
| Low level equipment : | 1-23 | Magical Essence (Lesser) |
| Mid level equipment : | 28-50 | Magical Essence & Experience Crystal Shard |
| High level equipment : | 51+ | Magical Essence (Greater) & Experience Crystal |
Did you know? Right clicking an Experience Crystal separates it into 10 Crystal Shards and vice versa

<⇒

x10

\\  ==== Use of enchantments ====

Instructions to enchant
We drag the object that we want to enchant towards the central square of the enchantments menu.

We click on the enchant button as many times as we want to add a bonus (Max. 3 Argo) (Max. 2 Takashi)
Instructions to reenchant
From 1 to 3 bonuses can be reenchanted and re-enchanting resets all enchantments on the item.
Once any bonus has been added, you can use the option on the "Re Enchant" tab.

We click the Re-Enchant button until we obtain the desired bonus or the one reached with the character's material or Gold limit.
We invite you to review the following section to observe the costs and materials necessary to enchant according to the level of equipment in the game:                </WRAP>
Add the fourth bonification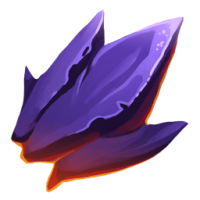 Corrupted Soul Fragment
There have been reports of the Frozen Land getting more unstable and rarely corrupting monsters to even more hellish beasts
Costs and materials to Enchant
menu_enchantment_system.txt

Last modified:

2023/10/19 21:23

by yolok1ck